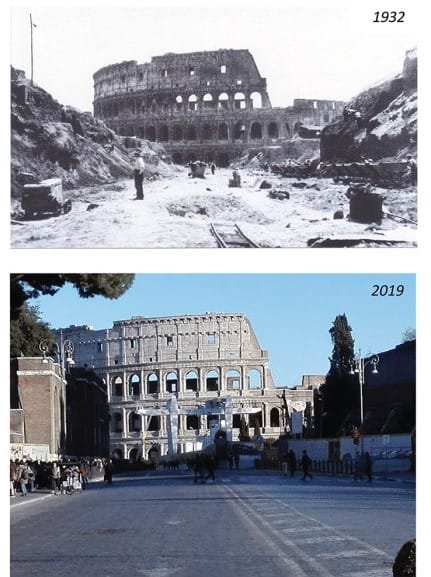 This pictures show the cutting of Via dei Fori Imperiali through the Velia, one of the seven hills of Rome, razed in 1932/33 to make space for Via dell'Impero (now Via dei Fori Imperiali) to the point that today it is difficult even to imagine it was there.
At the time they did the job in a hurry, and the archaeologists who followed the works found a lot of important remains, leading back to prehistoric days.

The Velia was in fact the last southern projection of the Exquiline hill, almost reaching to the Palatine, together with the Fagutale, another height in front of the Colosseum.
In Roman times the Velia hill gave the area a sacred character, as it housed very ancient temples. There was the oldest temple dedicated in Rome to Jupiter Stator, an alternative name of Jupiter as the god who halted retreat or flight (stare – to stand).  
In Rome there were two temples of Jupiter Stator The one on the Velia Hill was, according to the legend, built by Romulus himself during the war against the people from Sabina, when the Romans where forced to retreat (Livius I, 12).
Later on, the first simple sanctuary of Romulus was replaced by a proper temple in 294 BCE (Livius X, 36). On the Velia there was also a very important temple dedicated to Vesta, housing the sacred fire.
In more recent times the Velia was occupied by Villa Rivaldi, with a nice garden reaching the Basilica di Massenzio.
… Here comes Mussolini …
Despite the 1931 Rome plan, which did not provide for any street in the area of the Fora, in the same year the works started for the new avenue from Piazza Venezia to the Colosseum. This project was strongly wanted by Mussolini, not only to make the increasing car traffic more fluid, by connecting the centre of Rome to new expanding areas, but also to create a wide avenue for parades and to build an enormous Palace of the Fascist Party. In this way he could also see the Colosseum from his famous balcony of Palazzo Venezia.
The works were conducted in a hurry, revealing many ancient findings. The unearthed treasures were collected hastily and crated off to city warehouses.
The most surprising discovery was made on 20 May 1932, when numerous fossilized remains came to light, among them an elephant skull and tusk.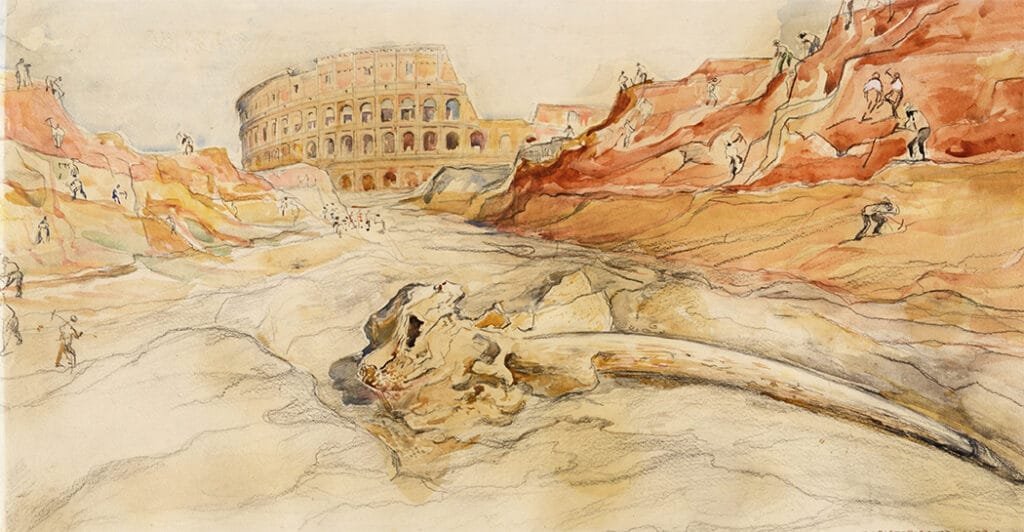 Moreover, on the new avenue Mussolini had envisaged to build the Palazzo Littorio, the seat of the Fascist Party, a massive building, almost as big as the Colosseum. The first contest was held in 1933, but it wasn't awarded. A second competition held in 1937 was won by Enrico Del Debbio, Vittorio Morpurgo e Arnaldo Foschini, but in the meantime the location was moved to viale Aventino; in the end the palace was built in the Foro Mussolini, today called Foro Italico, and now it is the Farnesina, the seat of the Foreign Office.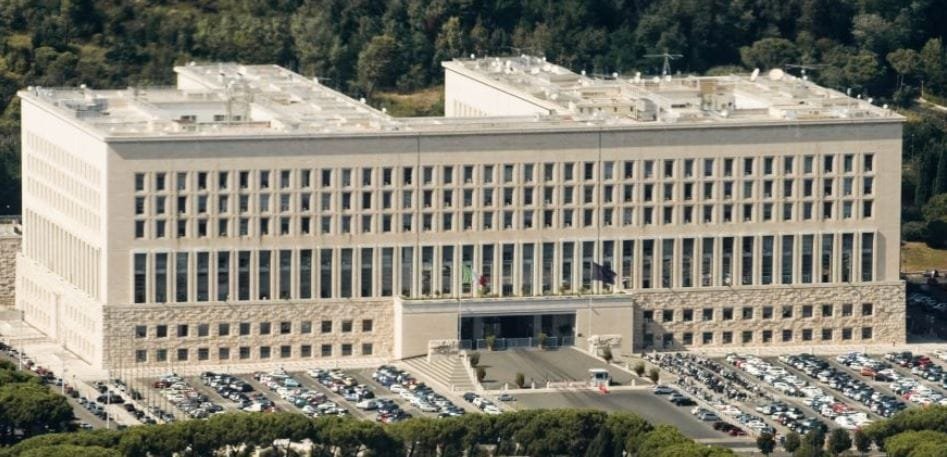 The picture above shows the changes in the area in recent times. The black and white map is By Falda, 1676.
The green lines show the cutting of Via degli Annibaldi; the works to open this street started in 1895, involving the excavation of the Colle Oppio, in the former Villa Mattei, in order to reach the lower street level of Via Cavour.
The yellow lines correspond to Via dei Fori Imperiali (1932)
The red line shows the path of the underground, that was started in the 40s and inaugurated in the 50s